---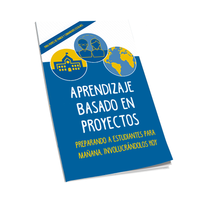 Published by PBLWorks and authored by editor in chief John Larmer, this short, staple-bound 35-page color booklet explains PBL in Spanish for K-12 parents and other members of a school community such as school boards, school/district staff, business/community partners, and even older students. It is a unique product in the field and unlike other PBLWorks publications, which are aimed at teachers and other educators. This booklet will help educators build understanding and support for PBL in a school or district.
Project Based Learning: Preparing Students for Tomorrow, Engaging Them Today is written in an easy-to-read, jargon-free style and features colorful graphic design. It has sections on why PBL is important for today's K-12 students, what PBL is - with answers to FAQs about it - and what to expect at a school using PBL. Also included are powerful quotes from students and parents about the value of PBL, example projects from various subjects and grade levels, and links to websites and videos for more information.
This book is also available in English.

For more information and sample pages, read the blog post about this booklet.
ISBN: 978-0-9968598-5-1