---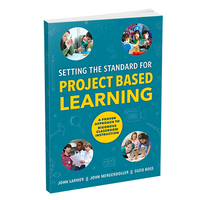 This complete guide to K-12 PBL explains the why, what, and how of Gold Standard PBL.
Setting the Standard for Project Based Learning includes a vision of rigorous, high-quality PBL and compelling arguments for its widespread use. The authors explain Essential Project Design Elements, Project Based Teaching Practices, and review the research supporting PBL.
For classroom teachers, you'll get practical, step-by-step guidance on designing and managing projects. And for school leaders, you'll find advice on how to implement PBL system-wide. Also discussed is the use of PBL in informal learning spaces and summer learning. The book contains sample projects in various grade levels and subject areas.
 Get the study guide! See ASCD's study guide for this book.
 Published in partnership with ASCD, the Association for Supervision and Curriculum Development. This book is a companion to Project Based Teaching, which explains how to facilitate projects based on the 7 Project Based Teaching Practices.
ISBN 978-1-4166-2033-4