---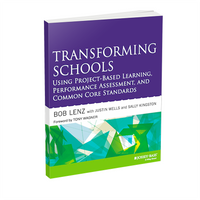 The world is changing and our schools are not keeping up. In Transforming Schools Using Project-Based Learning, Performance Assessment, and Common Core Standards, PBLWorks CEO Bob Lenz, along with Chief of Research & Evidence Sally Kingston and former colleague Justin Wells, draw on the example of the Envision Education schools, as well as other leading schools around the country, to show how the concept of deeper learning can meet the need for students who are both college and career ready and engaged in their own education.
In this book, the authors explain how Project Based Learning can blend with Common Core-aligned performance assessment for deeper learning.
You'll discover how many schools have successfully made the transition from traditional, teacher-centered learning to project-based, deeper learning and find many practical ideas for implementation.
Companion DVD and website include videos showing how to implement deeper learning strategies in the classroom
Evidence-based descriptions show why deeper learning is right for students
Performance assessment experts explain how to align assessments with Common Core by shifting the emphasis from knowing to doing
Extensive game plan section provides step-by-step guidance for change
ISBN: 978-1-118-73974-7